Olen aina rakastanut ukkosta, ainakin muistaakseni. Ehkä pienenä saatoin pelätä ukkosta jonkin verran, mutta valokuvaamisen myötä
olen aina haaveillut siitä, että saan tallennettua muistikortilleni hienon kuvan salamoinnista. Pelko on vaihtunut kunnioitukseksi ja vieläkin saatan säikähtää,
kun ukkonen osuu päälle. Mutta ukkonen ja salamointi on niin kaunista. Tunnen itseni niin kovin pieneksi sen jyrinän ja valoshown keskellä.
30 vuotta siinä meni, mutta eilen yöllä sain viimeinkin otetuksi ensimmäisen kunnon kuvan salamoinnista!
Sanovat vielä, että häiden kuvaaminen on vaikeaa…
Suurin ongelmahan taitaa olla se, että Suomen kesät ovat niin valoisia. Kun ukkonen tulee alkukesästä tai heinäkuussa kylään päivällä,
on lähes mahdotonta ottaa kunnon kuvaa salamasta (ellei sinulla ole salamaa nopeammat refleksit).
Pitkää valotusta ei pysty käyttämään, koska kuvat palavat puhki.
Nyt elokuun saapuessa, öiden pimentyessä ja jatkuvien ukkosrintamoiden avustuksella olemme nukkuneet Jounin kanssa hyvin kevyesti
ja siepanneet kamerat käteen heti, kun salamointi on meidät herättänyt.
Kuinka iloiseksi minut tekeekään oikeiden asetusten löytäminen ja nämä ihkaensimmäiset kuvat salamoinnista!
Kummatkin kuvat on otettu ikkunan läpi, joten niistä on editoitu pois vesitippoja ja muita roskia.
Nikon D610, F10, ISO 320, 20 sekunnin valotusaika. Manuaalinen tarkennus asetettu vähän äärettömän alapuolelle.
//
I've always loved thunderstorms. My fear for them has changed into a healthy respect and I've always dreamed of taking an awesome
photo of a lightning. I may still freak out a little when storm really hits.
It took me 30 years to take my first good lightning photo just yesterday.
And they say photographing weddings is hard!
The problem with thunder is that it usually comes whenever it wants and since during summertime we have so much light, it's nearly impossible
to take a photo of lightning. So for the longest time I've only been able to admire thunder and lightning without my camera.
But now August came and since nights are dark for at least couple of hours, we've been sleeping lightly and for the past couple of nights
awesome thunders have visited us.
I've found my winning solution for catching a lightning. And it makes me incredible happy!
These two photos are both taken through window so I've cloned out some water drops and other things.
Nikon D610, F10, ISO 320, 20 second exposure. Manual focus set just below infinity.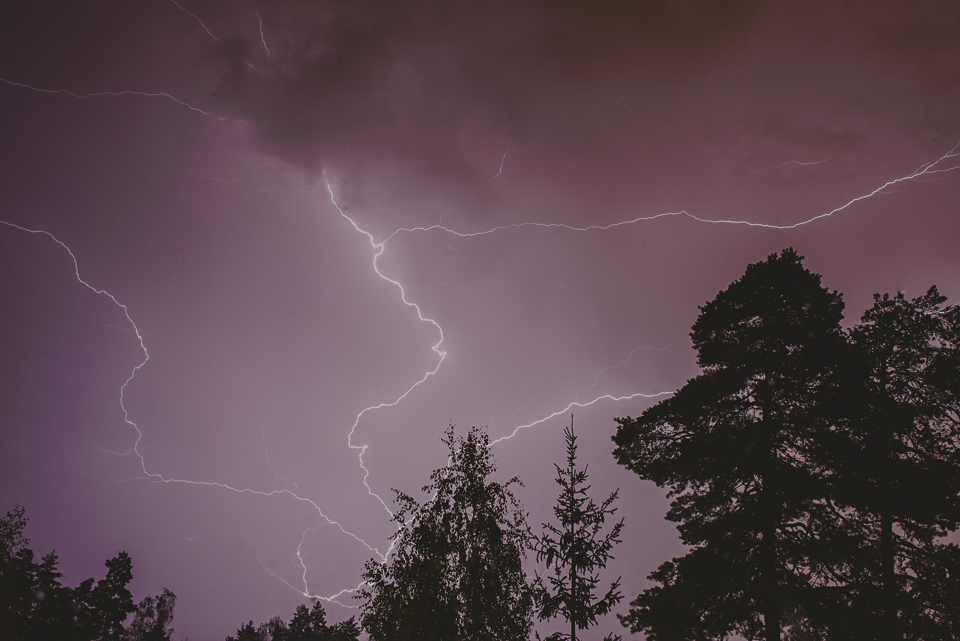 Toivottavasti näiden vinkkien avulla sinäkin saat otetuksi kuvia salamoinnista. Iloista metsästystä! Salamoinnin jälkeen saatat myös nähdä hienoja auringonnousuja.
I hope with these setting tips you're able to take photos of lightning as well! Happy hunting! You might also see awesome sunrises.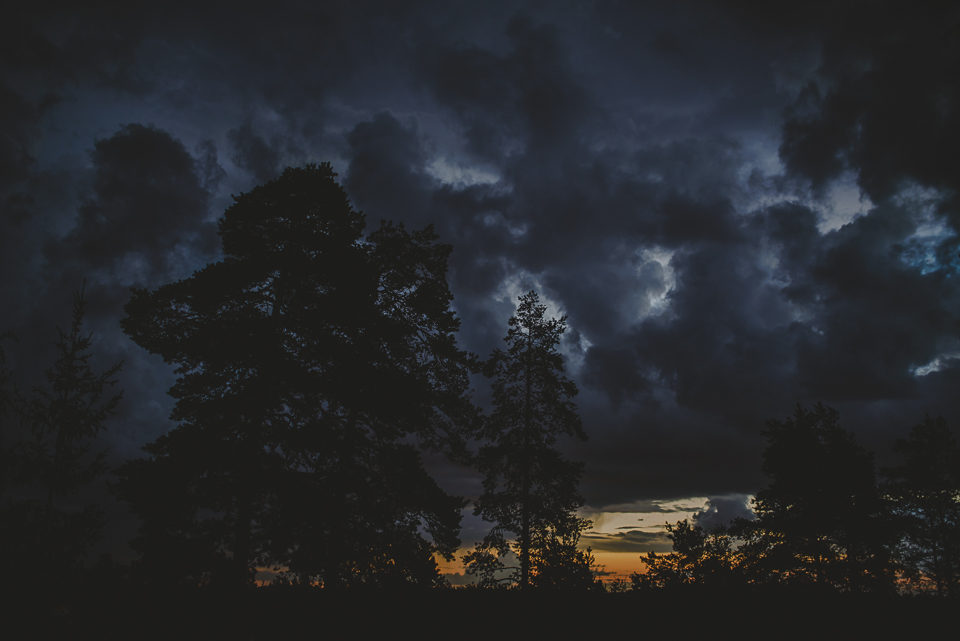 // Johanna